Meir Medical Center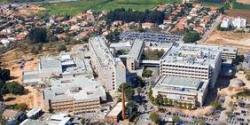 Founded in 1956, Meir Medical Center is one of the top hospitals in Israel. Located approximately 20 km away from Tel Aviv, in the city of Kfar-Saba, it is the facility of choice for the Israeli Olympic team, as well as several other Israeli sports associations. The hospital employs more than 2,300 highly-skilled medical specialists most of whom were trained in the US and/or Western Europe, and performs over 18,000 operations a year.
Meir Medical Center holds the prestigious Joint Commission International (JCI) Certificate, which is awarded only to hospitals that treat international patients. The facility has expanded over time and currently houses close to 100 different departments and clinics; it also operates a research center in cooperation with Bar Ilan University's Faculty of Medicine.
Meir Hospital is famous for its IVF (in vitro fertilization) unit, which has successfully performed thousands of procedures, as well as its outstanding Department of Urology, responsible for a large number of complex surgeries, such as correction of urogenital birth defects, reconstructive operations (following injuries and/or disease processes) and kidney stones removal procedures. The department also has an exceptional track record of treating urological tumors. It commonly performs minimally invasive surgeries that provide excellent results while minimizing post-operative complications.
Meir Medical Center also serves as a research center for the country's only Institute of Pulmonology. Presently the Institute has 40 beds for inpatients, 8 of which are equipped with a medical ventilator.
Meir's Department of Orthopedics and Traumatology is, amongst other things, well known for its capabilities in reconstructing joint and bone fractures, treatment of rheumatologic diseases and operative correction of congenital skeletal defects.
Application form for treatment